We will never see her like again.
God save the King!
She was an inspiration. An example to us all.
Sorry but good you're not talking about the other one, your missus. I only started hearing intimations in the news yesterday. She had a long life and about as full as one could hope for in that role.
May Elizabeth rest in peace and rise in glory.
Controvesial topic to say the least.Wasnt really fond of her or any kind of royalty
I remember this portrait in the class from grade one, sixty years ago.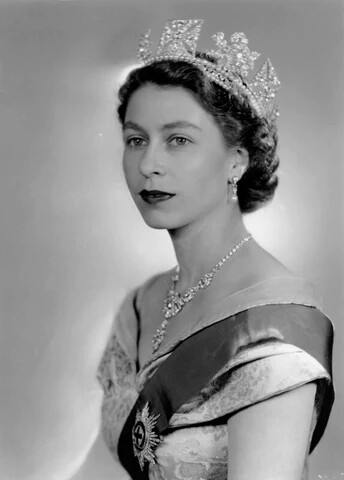 And as a totally conflicted republican agnostic, God bless Her.
Or at least bless her progeny, friends and foes … at least as much of them as she invested in in life, seemingly a goodly number. Life goes on but she has stepped off.
Foes? ISIS threatened Her once. Bad move.
Yep And she did some good in making the royalty more -if not perfectly- transparent. Wasn't her father the stutterer? I liked that movie.
Aye. A fine King. Unlike his appalling brother. To quote an historian who knows everything covered by the hundred year act, to me, in private, 'They'd have hung him if they could".
I'm assuming you mean the appalling American skirt chasing one. I feel the same way about our recent would-be king.
Aye. But at least ours abdicated. Fascism is the only thing they had in common.
My kinsman David Cameron, her 12th prime minister, said she was the world's greatest public servant and diplomat. Can't stand the man. But he's right.
Agreed. Her service to the world and her people will never be forgotten. God save the King!
May she Rest In Peace.
Quick question(s): I heard that some people apparently celebrated her death due to possibly bad stuff that happened during her ruling, I'm not exactly sure what it could have been, can anyone who knows their research on this possibly give me an answer? Thanks in advance.
There will always be such bitter, broken people. Nothing has been reported here. Even Putin sent his condolences.
Now imagine showing that support or at least that emotion for a homelless man who died alone without anyone near him.This world is a joke .Just saying
Unlike Jesus, who put his empathy for the poor–you're right–we often have our priorities in the wrong place. It's a good idea to honor where she's due, but also remember that the servant in heart will be the greatest. May we learn to do the best we can with what we have.