First of all I want to thank @JPM and all those on this thread who followed along to this point. I do not deny that some if not most of the blame for people not seeing what I am getting at is mine. It seems I erred when I started with a detail instead of the big picture. So I thank you for your understanding and I again wish you a merry Christmas. Since glipsnort was kind enough to say one of my numbers was reasonable and provide some sort of math to continue I will respond to what he said before I pack it in for the holidays.
I have been told that I do not want to dispute population genetics with you, and I don't. I am being dragged into contentions over human evolution. I prefer discussing the theological aspects of early Genesis. But I want to be sure we are not talking past one another here and I think that is what is happening. For example you mention that for stable populations a neutral mutation can reach fixation at 4N * generation time where "N" equals the effective population size. I am not sure we are talking about quite the same thing. I am talking about the 700 genes gained in humans and lost in chimps. This is not a case of a mutation of an allele in an existing gene. Rather, there is a new gene which previously did not exist. So instead of 22,000 genes there are now 22,001 on one half of one chromosome of the first member of the population to acquire this new gene. How long until each and every member of the population has 22,001 genes on each of their chromosomes due to this addition?
As I understand things the norm would be for this new gene to only be on one "arm" of the chromosome. In such cases there is no being "homozygous" for new gene because it only shows up in one place. Thus, only half of the offspring would get the new gene. Imagine a stable population as we have discussed: 50,000 people with an effective population size of 15,000. NOTE: I use these numbers because they are similar to what those who hold to an evolutionary origin for humans use, not because it makes sense to me that humanity spent almost six million years on the edge of extinction without ever going extinct! Each couple has two children, who then also have two children and so forth, deaths subtracting out from births. In each generation one child gets the new gene and one does not. So far, the gene simply stays in the family. It does not grow as a proportion of the population.
I am reduced to providing child-like pictures in the hopes of getting through! This represents a population of six, each circle being a person. The line dividing each circle represents the mid-point of the chromosome in question. The black half represents the location of the new gene (not allele of existing gene).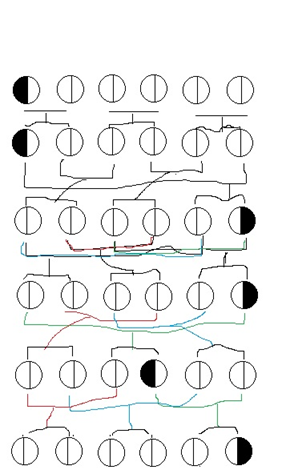 Now whatever your formula is describing, it is not the situation in the above diagram. The three couples (total population of six) go through six generations. This is one-quarter the "4N" number in which fixation occurs for whatever situation you have in mind. In the situation I have in mind, the gene on average remains at its initial frequency. Sure you could have a generation where both kids get the gene, but the next generation could have a family in which neither of them get it- thus returning to the average. The gene could get fixed by luck in enough generations, but run this scenario many times and it would seem to take way more than 24 generations on average. If I am wrong about that, what am I missing?
Now I say all that to show my misgivings about the spread-rate formula as applied to this problem, but in truth I don't think those 700 new genes stayed neutral as you assume in your formula. If they were neutral I don't think that all seven billion humans on this earth would have them. They must have provided some benefit, and that would strengthen your position that nature would add them over time. I just thought the problem is quantified differently than you put it.
What I think we have to do is calculate in terms of growth of the new gene in population over time due to its benefits over those who lack it. That is, we would expect it to grow to fixation point because those who had it were better adapted than those who did not. All these calculations must start with some assumptions. For the purposes of discussion I will just throw one out there and let you (gently I hope) show me why it is off base (or maybe it won't be!).
My formula would be: Y * generation time = time for fixation where X to the power of Y is = or > population size. Here X is the survival advantage that the new gene provides relative to the other genes in the organism and Y is the number of generations that advantage must have to go from where only one member of the species has it to the point where the entire species could be expected to possess this advantage. I use the full population size here rather than "effective" population size because it is not a question of how many other variant alleles are out there. Nobody else in the population even has the extra gene yet, much less an allele which has an X value over zero!
So for the "normal" allele in a normal gene the value of X=1. That is, the gene is of average fitness and it does "its share" toward contributing to survival. If "X" is less than one then that does not mean that the gene is deleterious. It just means that the gene is not "pulling its share" of the weight of contributing to survival and reproduction. It will still spread, and spread exponentially, if it has any positive value.
Can we agree that it would be highly unusual for a randomly produced gene to be better right from the start than the average gene that has been subject to selection pressure to help this organism survive for untold thousands of generations? The norm would be for the gene to be neutral or silent for a long period of time until it acquires just the right mutations to be useful. Then it acquires a positive "X" value.
As time went on further mutations would occur until the form most useful slowly gained the upper hand over prior versions and it reached peak "X" value.
Thus when determining the value of "X" we must take into account there was a Latent Period when it simply remained in the population at low levels as shown above as a neutral mutation. These low levels make it less likely that the additional mutations required to make it useful will occur quickly. The gene may only reside in 1% of a population of 50,000 during its Period of Latency. That is not a lot of opportunities for time and chance to do its Darwinian thing and once the allele which makes the gene useful pops up then both the gene and that allele of the gene need to spread.
Further we need to use its adjusted average "X" value, not its present or peak value. At first utility it is reasonable to expect these genes will be less useful than the average gene which has been honed over time to contribute to survival. This will change. The gene will get better over time relative to the genes which have been at it all along. But then we should not expect it to have spread over time based on its current value, but its average value during that time. And of course once population increases dramatically it becomes harder to fix new genes. I again protest that these population numbers seem unreasonable because they keep us at the edge of extinction for six million years without ever going off of that edge, but let's go with it for now.
I don't have firm grasp on how long a reasonable latency period would be for a gene (not just allele in an existing gene) introduced to a single member of a population of 50,000 which remains at low levels until it finds some utility. I would be grateful if you could tell me. But after the supposed split with the common ancestor that process would have to occur 700 times. At that point, the gene would start spreading in the population.
I will start with the simplest yet very unlikely scenario that one of these new genes showed up immediately after the split and by some fortuitous chance gained utility within just a few generations. Further, it accelerated in utility very rapidly so that in only a few generations it was just as useful as genes that had been honed by eons of evolutionary time to be useful to our ancestors. It has an "X" value of 1 right off the bat! Each of these assumptions are in my view anywhere from optimistic to wildly optimistic but with them the calculation is…
1+ 1/22,000 = X or 1.00004545.
1.00004545 to the 240,000th power = 54,657.
So we might expect that in 240,000 generations the survival advantage provided by the new gene would have enabled it to spread to the entire population. At least there is a greater than 50% chance of this because 54,657 is greater than 50,000. But that is with the gene achieving typical utility at once. If the gene started with half the utility of the average gene it would still spread, but very slowly. Six million years is not enough time for fixation (unless it gets better over time, but the math on that is beyond me):
1 + (0.5-1)/22,000 = 1.0000227.
1.0000227 to the 300,000th power = 914
So then we might have a gene which helps us pop up in one individual, but the positive effect is so low that even over 300,000 generations we might expect only about one out of fifty individuals in our population to possess the gene. A population of mice may be able to have such genes fix in six million years, but for humans it takes a lot longer, or the gene has to get better over time. I believe the norm is for newly useful genes to get better over time, but then you have another problem. Once the first version of the new gene is out there then the advantage of the improved version is relatively less, lowering its advantage and thus slowing its spread! I don't have the math skills to quantify this, but I still think the issue is real and should not be dismissed (by others not you) as "argument from incredulity" just because I can't quantify it!
I realize that the model, all models of this nature, require assumptions and the outcome depends on the assumption that you plug in. If you decide each of the 700 new genes is a super-duper gene much better for our survival than the rest of our genome then those genes could spread much more quickly. I think that would be a tough idea to defend. Even the numbers I gave were optimistic and the cumulative effect of 700 such improvements at the values I gave is plenty of reason why we are here and the near-humans are not. Regarding population, I think scientists have clung to the idea of a low pre-human population and early human population in order to make the genetics seen seem to be more plausible. It doesn't make a lot of sense on any other level.
Now I think even the optimistic (to your view) values I gave in the first scenario are still problematic for the idea of human evolution. The genes could be fixed in 4.8 million years of the six million available- if the period of latency was brief and they all showed up in the first 1.2 million years at a utility at least as great as the average gene that has been honed to help us across ages of time. But if they all show up right away in good working order then in my view we are right back into "miracle" territory. And the language in this article seems to hint at that….
https://www.sciencedaily.com/releases/2009/02/090211161840.htm
where it says…
Eichler's research team found an especially high rate of duplications in the ancestral species leading to chimps and humans, even though other mutational processes, such as changes in single DNA letters, were slowing down during this period. "There's a big burst of activity that happens where genomes are suddenly rearranged and changed," he says. Surprisingly, the rate of duplications slowed down again after the lineages leading to humans and to chimpanzees diverged.
I don't even know that this is when the changes happened, but they see big changes and it is when they assume it happened. I guess you can say "evolution did it" like these scientists do, but the language they are using, "suddenly rearranged and changed", is consistent with the idea of an intelligent Designer. And both chimps and humans are very different from the other genomes tested, though not necessarily in the same way.
Nature's way would be for them to be more spread out, yet they must all be within the first 1.2 million years in order to have the 4.8 million years needed to get fixed. And that time excludes the latency periods and improvements in utility for each of them. But the scientists in that link I gave talk as if the changes happened even faster than that.
If any of those 700 genes waited until only 3 million years ago to pop up, then they would not have been fixed in humanity yet. They had to all be in the mix from way back, about five million years ago. But this pushes them all into such a narrow window that I think it is fair to argue that we are not watching only evolution at work, but rather have detected the fingerprints of God!