Today I learned about the Pezosiren, a "basal sirenian," which means it's one of the earliest found ancestors of modern manatees and dugongs. Manatees and dugongs are in the clade Afrotheria, meaning they are most closely (but distantly!) related to elephants, hyraxes and certain species of shrews. I'm fascinated by this sort of transition from sea to land, land to sky, land back to sea, etc., as a beautiful picture of how God has used evolution to provide new options for feeding for entire branches of the Tree of Life.
Wikipedia says of Pezosiren,
"It is the first known quadrupedal sirenian, and is considered a transitional form between land and sea sirenians. P. portelli had four limbs perfectly adapted to walking instead of flippers, but the typical skull, teeth, and ribs of the fully aquatic, 'normal' sirenians. Its heavy ribs, providing ballast, indicate it was semiaquatic, perhaps like a hippo."
Below is an artist's rendition of Pezosiren based on the nearly complete fossil found in 2001.
It always amazes me that one of the most common arguments used by our young-earth brethren (and sistren) is still the lack of transitional fossils, despite the rich record we now have.
So what's your favorite transitional fossil? Let's put a few out for our YEC forum visitors to peruse.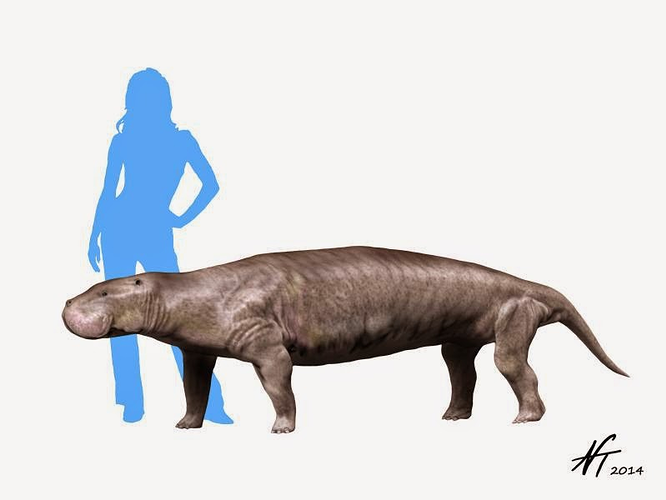 P.S. I submit that the only way you could make Pezosiren cooler is by turning it into an English word instead of a Latin name. What an amazing Scrabble bingo it would make, under the right circumstances…