While making an exam, I needed to put a graph of an isochron plot for one of the questions. An isochron looks like this: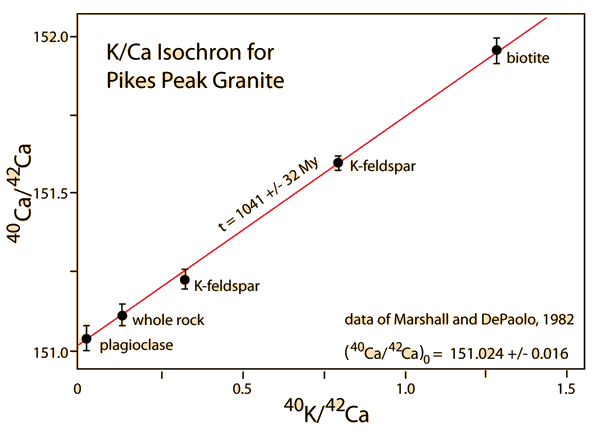 Note: the five data points for this measurement are all taken from different parts of the same sample. Originally, rocks will start out as a flat-line and as they age, the slope of the line increases. Here is a handy reference that walks you through how this process works: http://hyperphysics.phy-astr.gsu.edu/hbase/Nuclear/rbsrstep.html#c1
This is a very powerful method that helps bypass one of the limitations of radiometric dating which is that if you have some of the daughter radioisotope present initially, you need to figure out how to subtract that out. Sometimes the background concentration will be relatively minor and will quickly be overwhelmed by the decay process. Some materials, like Zircon crystals, might night incorporate certain isotopes very well so you can have more confidence that any radionuclides present came from radiometric decay. But the clever part of the isochron method is that any extra of the daughter radionuclide simply shifts the y-intercept of the graph up or down, but cannot actually affect the slope from which the age is determined. So how does this fit into the Young Earth Creationist framework?
There are two approaches taken:
You can get isochrons by chance
Sometimes isochrons from different parent/daughter combos give discordant dates
Let's focus on the 2nd one for now which when I searched for 'Potassium-Argon Isochron' 20 of the first 21 results were from YEC sites. That's probably due to my internet search history. Thanks Google. So what graph did I see over and over… something like this: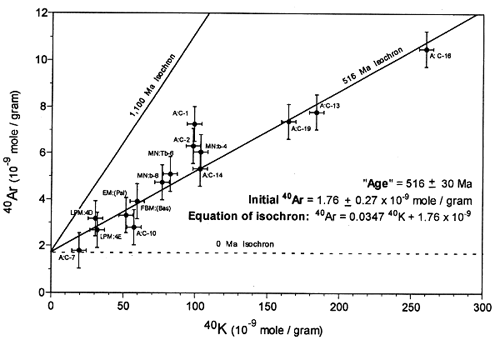 The reason why this is supposed to be significant is this is from the Cardenas Lava Flow in the Grand Canyon which is dated to be closer to 1100 million years old using the more robust and less volatile Rubidium Strontium isochron method. However, whenever we try to use the Potassium Argon isochron method we find that the dates we get tend to be young… how can this be?? A simple explanation of course is that Argon is a noble gas and if the rocks were slightly heated, Argon would escape and the slope of the graph would decrease. However, Strontium is much less susceptible to slight heating and therefore more reliable.
An interesting, but not surprising observation
Note: it is an interesting question as to how specifically Argon was lost (see the section in this paper for a discussion on how we know the strata can be reliably dated to 1100 million years old and why Potassium Argon dates are lower titled 'Cardenas Basalt Geochronology,' but this helps demonstrate the absurdity of YEC science writing. It is to be expected and was known before Austin and Snelling measured the K-Ar isochrons that Argon is particularly volatile AND that this particular basalt gave dischordant results. But this was not surprising to non-YEC geologists because of the nature of Argon! So they did nothing new in their experiment other than try to cast doubt on the isochron method by assuming their isochrons were reliable measures of a rocks history.
A Good Opportunity to Correct Lies (note: see below for a discussion on the word lies) from Modern YEC Founder Henry Morris
Pevaquark note: the word 'lies' can imply deceit and I do not mean that he was intentionally deceptive. It is entirely possible that he didn't realize that he was wrong in which case it was not intentional deception. However, Snelling & Austin should know better and stop reapeating such falsehoods
They had a perfectly good opportunity to help correct other lies that are told by YEC writers. Specifically, Henry Morris argued that three assumptions which cannot be known (except by someone who was there with the ability to measure beta particles or something):
Constant process rate (or known functional variation of process rate).

Closed process system (or known external effects on the open system).

Initial process components known.
Specifically, the isochron method alone can help bypass the challenges of 2 or 3. Unfortunately, Snelling & Austin ignored the telltale signs of Argon leaking out in their data which are outlined by others like the blogger from Age of Rocks or the various papers discussing the formation like the one I cited above. And then, repeatedly throughout the paper they say things like:
There is a significantly non-zero 40Ar value for zero 40K, which would appear to refute the zero 40Ar* assumption of the model age technique.
That statement alone is shocking and very misleading and plays right into Morris' 3rd lie. One of the entire points of the isochron or other methods is that by using a reference non-radiometric isotope, you don't need to know the initial concentration of the daughter radionuclide!! It will only shift the graph up or down but won't actually change the slope. There is Argon in the atmosphere… so no geologist would ever just 'assume' there's none present at the start. That's ridiculous and it would be wonderful if I never heard that statement again from YEC. Let me just say it in bold: you don't need to know the original concentration of the daughter radionuclide to obtain accurate radiometric dates. There are methods, like the isochron method which they could have taught some good science or even corrected some lies of YECism, but they failed to do that despite knowing better as geologists.