When humans think about the existence of G-d, we each inevitably include our assumptions about who we think G-d is and how we think G-d might communicate with us. Even with the aid of Biblical perspectives, our basic assumptions about G-d strongly influence our reading of Scripture. Interestingly, over the last century our knowledge of the age of the universe, our understanding of the methods G-d used in creation, and our knowledge of human history have changed significantly, but have we seriously revisited our assumptions about how G-d speaks to us? By now, it should be clear that science is a voice of G-d. It's not that science speaks with 100% clarity and truth, but it speaks with authority and credibility, and over time it works to correct its own errors.
Science is telling us that creation took place using as yet obscure biological processes over billions of years to progressively populate the earth and set the stage for the advent of humans. There may have been extraterrestrial intervention along the way, but there is no definitive or credible proof of that in existence. Further, the historical record seems to indicate that humans have developed socially, intellectually, and technologically in a similar way through progressive step by step changes over time (socio-cultural evolution). This all leaves us with a clear indication that our G-d planned, designed, and built a universe where it's Creator chose to be scientifically invisible. That was no accident.
In the realm of Christendom, this new information should be leading to changes in our world view. Our Lord and Creator did not simply wake up one Monday morning and blast out an entire universe in just six 24-hour days as if it were trivial. Instead, our Creator formulated an infinitely complex plan emanating from a collasal explosion which initiated a continuous chain of events spanning ~18 billion years, just to build the incubator and backstory for our arrival. Our Lord devised a completely novel alternate reality, set apart from the kingdom of heaven. The point is that G-d's love and provision for us began ~18 billion years before humans existed. As it has now been made evident before us, can we question the depth and resolve of G-d's eternal love for us?
The size of the universe and a project of this epic magnitude demonstrate that G-d has invested everything into this quest for holy love and we should be profoundly shaken and awed by this new knowledge.
As is evident, imperfect science is a spokesperson for G-d which communicates important new revelation about G-d and G-d's methods in creation, but are there other sources of natural revelation we should be observing as well? Check out Romans 13…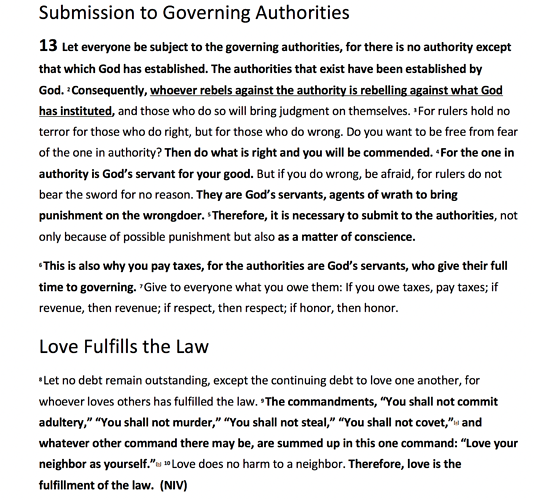 In light of G-d's adherence to socio-cultural evolution, one perspective worth revisiting is the role of civil law in our understanding of Scripture. Romans 13:1-7 is a well-known passage which describes G-d's perspectives on governmental authority. The passage never suggests that governments are perfect or above reproach, but it does indicate that their authority is established and accepted by G-d as binding upon its citizens. Further, it enjoins us individually to do what is right stating that we will be commended for doing so. The source of our commendation may not be clear, but governments normally don't commend citizens for following the law; however, we know from other sources that G-d will reward believers for the good we do. Verses 8-10 are linked by context indicating our responsibility to abide by both civil and moral law as both come from G-d.
One perspective for consideration which can be derived from the Romans 13 passage, is its transcultural enjoiner to comply with contemporary civil law. Somewhat by definition, civil law transitions over time usually keeping pace with the best in prevailing public opinion about what is right behavior. Though never flawless, civil law like science, improves over time through a process of self-correction. I believe it is part of G-d's design to use civil law to guide and document the maturing process of humankind. We should recognize that Paul and the other Apostles as they chose rules for church conduct were enjoined to obey and support the laws and traditions of their time (keeping " the traditions" was promoted by law), and by extension we today are enjoined to comply with our own law.
This raises the question of why we in today's church would rather establish our internal practices in deference to Roman law when we are enjoined to comply with contemporary US law? For example, many churches hold that women must not teach or exercise authority over men which was the law and tradition of the land in first century Rome. Yet, today our law specifies that women are to be treated with full equality across the board and our culture generally endorses the confident assertion that a woman can hold the highest office in our land. Paul was right in developing the rules they followed, and we can be right in changing those rules to match our laws today; yet we both are following G-d's provisions for us.
Biblical interpretation over the millennia has largely ignored the implications of this passage and has instead interpreted all of Paul's writings to his churches and pastors as if every verse could include transcultural truth which therefore must not change over time. In my opinion, the idea that Paul was enjoined by G-d to Roman culture and law (which is temporal) has not been given full consideration. From the light of today, we see that G-d indeed uses civil law in the shaping of humanity's sense of rightness. If you are not convinced, just consider the differences between our law and first century Roman law. Though flawed and imperfect, contemporary civil law is something G-d ordained for our good and we are expected to embrace its authority just as Paul was then.
Points of discussion:
How do you see it?
Today we live under Royal Law, "Love your neighbor as yourself." Does this mean our practical definition of love changes over time as humanity does? Why or why not?
Because G-d uses the process of socio-cultural evolution to mentor humanity, how might that impact our understanding of the way G-d chose to communicate with humans through the Bible and through natural revelation as we mature culturally and technologically over time?
Why has G-d chosen to be scientifically invisible?
What is the end game of Creation?
With heaven made in perfection, why was earth built in sin?
Please chime in…