Yeah, I guess Smokey Bear is probably an American invention. He's very dedicated to wildfire prevention:
Just wanted to toss in that some organizations, like National Wildlife Federation has been trying to actively more attention away from Smokey the Bear because they believe it's inspiring faulty paradigms on fire ecology.
Yes! More Calvin and Hobbes fans!
A few days ago, I finally found some chemical-free banana chips: all of the spaces on the nutrition facts label were blank, and there wasn't an ingredients list. They did have mass though. Alternatively, did I just discover what dark matter is?
There is a similar label on bags of ice. But, just thinking, since you would have to use body heat to melt the ice if ingested, shouldn't it list negative calories? Let's see, to raise a liter of frozen water to body temp would require about 37,000 calories or 37 Calories, so a kilo of ice should have -37 Calories (roughly, actually a bit more negative Calories)
This was completely blank, not 0s.
Yes, but there was a weight. Dark matter wouldn't have been as funny otherwise. I wasn't making an equivalence, it just reminded me that I had a photo of a nutritional label on distilled water, funny in its own right.

That in turn reminds me of Christmas party at work maybe two decades ago when I picked up a bag of bright green tortilla chips and started reading the ingredients, noting that they are listed in descending order by weight. I first said "FD&C Green No. 3!" Several people took me seriously.
In the history of Western theology and philosophy, humor and religion have had a stormy relationship. Attitudes to humor and joking that "humor escapes science. … ogy at Asbury Theological Seminary where he has taught since … toward humor in the church and among the theologians https://housebouse.com/.
Welcome, @EmyJackson! Can you check your link? I can't find the relevant post.
I know that Isaac Asimov had an interesting quote, at one point, musing about why even nonbelievers find jokes about the afterlife funnier than average–but I can't find it. Thanks.
This seems reminiscent of those claims about how radiometric dating is all wrong: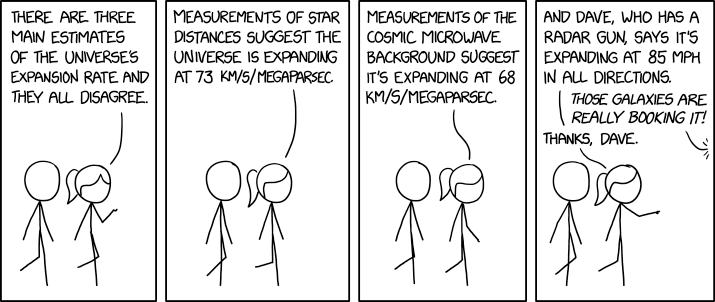 As an aside, 85 mph is the approximate recession speed of 520 pc away, or about the distance to Deneb.
Rankine would be even better, though still not competitive with Q.
Great.