Better have thick walls on the pressure cooker for this one: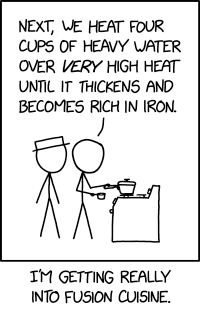 xkcd: Cuisine
How true. Perhaps even if you add the oft used naughty addendum of "in bed."
Now, now you two … don't make me send you over to the corner to think about what you've said.


I seem to remember one Calvin strip running on a similar theme to the above ones that ended with a dour-faced Calvin in the tub concluding "The paper should really be printing mom's predictions, because those sure come true!"
Yes, that was a few days later, after he got a horoscope predicting romance.
Ah yes … that was quite the long astrology sequence; and I finally saw the one I was remembering in there too!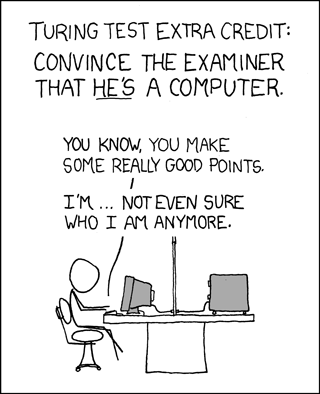 Redneck Medical Terms (I like these better than the real ones!)
Artery – the study of paintings.
Bacteria – back door to the cafeteria.
Barium – what doctors do when patients die.
Benign – what you be after you be eight.
Cat scan – searching for kitty.
Cauterize – made eye contact with her.
Colic – a sheep dog.
Coma – a punctuation mark.
Dilate – to live long.
Enema – not a friend.
Fester – quicker than someone else.
Fibula – a small lie.
Labor pain – getting hurt at work.
Morbid – a higher offer on eBay.
Nitrates – rates of pay for working at night (usually higher than day rates).
Node – I knew it.
Outpatient – a patient who fainted.
Pelvis – second cousin to Elvis.
Post operative – a mailman.
Recovery room – place to do upholstery.
Rectum – nearly killed him.
Secretion – hiding something.
Seizure – a Roman emperor.
Terminal illness – getting sick at the airport.
Tumor – one plus one more.
Urine – opposite of you're out.
Now now, any true redneck knows this is actually a salad dressing.
There's a handbook for exorcisms that as far as I can tell was written by someone who does not believe in God. That sort of baffles me, but possession is not something I'm terribly interested in so I'm not going to bother buying and reading the book.
Interlibrary loan is a free option!