Florida sharpshooter successfully defends his clan's real estate by taking out opposing side's champion with primitive but deadly weapon.
Florida man's wife dies in escape attempt, when she turned into column by roadside. Other passengers were uninjured.
Like blowing your nose on saran wrap. Not that gas stations stock toilet paper.
Florida man dumped into broken well by political advisors, saved by foreign diplomat.
It's easier to pray to God about something you want to do by asking him if you should not. Such as " dear God if you think I should not do this then give me a sign" …. Xd
This new one was good. I'm a big fan of Sam Raimi who directed "Multiverse of Madness" and he's known for his love of horror. He's the guy who did " The Evil Dead " and this Dr. Strange film definitely did a lot head nodding towards horror and specifically Raimi's work. Even had a funny Ash ( Bruce Campbell )head nod about his hand possession and so on. I was surprised they were able to tack in as many deaths and reimagine the gore. Such as using mustard to indicate blood lol.
I guess South Park and Beavis and Butthead are taking a break from waging war on civilization as we know it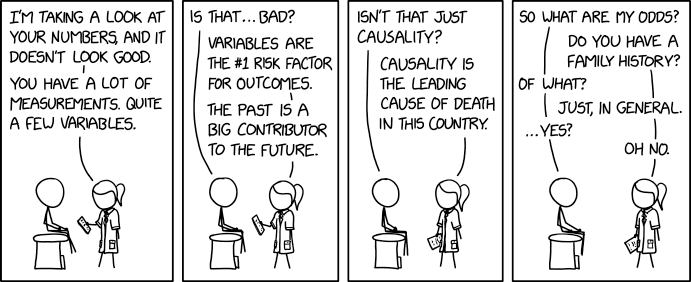 The mouseover text: "Donate now to help us find a cure for causality. No one should have to suffer through events because of other events." sounds a lot like some "invest in my panacea to prevent the inevitable" claims.
They look pretty proud of themselves. It's probably okay as long as one of them is named Isaiah.
'Bout time for some merry-making!
Florida jailer reports only known peaceful, hymn-sing jailbreak-revival.
No escapes, no injuries, no suicides.
…nothing to report, actually.
Foxx news will conduct no interviews.
I'd look the same if I had to visit those locations…

Thanks for clarifying. I would never have caught that part.
One time my bird dog Blue ate my Book of Common Prayer. The BCP has a prayer about the Bible that says,
"O God, who has caused all Holy Scriptures to be written. Grant us so to read, mark, learn, and inwardly digest them…" So I guess old Blue took this literally.
Merry indeed. Maybe they can buy stool softener when they arrive. They appear to need it.