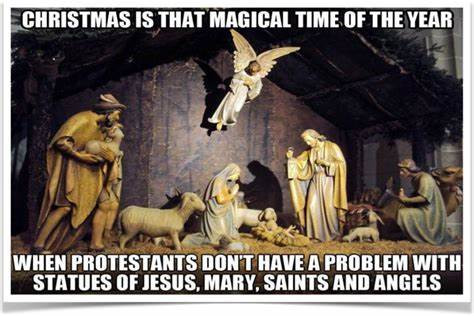 Something I've recently started doing and it's funny to me. I never really cared about the terms theistic evolution or evolutionary creationism until I used " evolutionary creationist " in a YEC Facebook group. Tons of them went off on its a oxymoronic statement and does not exist and so on.
So i brought up how many use the term because they want others to know that YEC are not the only creationist. They ignored it even after I too several I prefer EC now.
So the funny part, at least to me, is that I begin to refer to them as young earth theists and it really triggers them. I told them with a literal face value reading it's accurate though.
Perhaps you should not shorten it Young Earthers, as they might consider it related to Flat Earthers. Or perhaps Flat Earthers should object to that name and insist on being called Flat Earth Creationists.
I was thinking about baby earth theists.
A pediageotheist is someone who adheres to the religious and scientific "Infantile Earth Theory".
Or start bringing up the argument that to believe in a young earth is implying the universe is significantly older which is wrong because if it was older the sun would have burned out of energy by now which makes no sense because of there is no oxygen in space to breath how can it even keep burning? Which is evidence it's sustained by the power of God just like the eternal fires.
That is seriously the same style of arguments I hear. I'll hear something sometimes and I'm just like there is so much you are not understanding and stitching together scientifically and theologically xd.
Wouldn't the preferred YEC adjective be "Biblical such-and-such"?
Christian birdwatchers, aka 'ornitheoligists'…
I liked the "Playskool Unveils Vaccinate Me Elmo Doll", too.

Sorry, but that sounds like scientism and transhumanism.

No, just a cute little spin on a popular Bible verse.
Those Casting Crowns mosh pits can get pretty wild.