This recent article by ENV on whale evolution lead me down a delightful path, https://evolutionnews.org/2018/01/adam-and-the-genome-and-whale-fossils/. They make the claim,
They write:
even if we accept some of the fossils as "intermediates" between whale and land mammals, there is not enough time for the complex adaptations needed for whales' fully aquatic lifestyle to evolve. Whatever the correct explanation is for the origin of whales, unguided evolutionary mechanisms are not the answer.
Regarding the claim, that illions of years is "not enough time." There is no genetic or mathematical analysis to backup this conjecture. What types of genetic changes are required for whale evolution? How unlikely or likely are they? This leads us to this phenomenal review of the genetic details of whale evolution:
This is just a beautiful paper, because I did not realize how much of the genetic story had been worked out, and even confirmed with directly laboratory experiments. I cover more details in a longer post on my forum (https://discourse.peacefulscience.org/t/molecular-genetics-of-whale-evolution/83) but its notable that the vast majority of changes are caused by losing protiens (creating hundreds of pseudogenes!).
As @Joel_Duff aptly observes, this evidence is so compelling that even young earth creationists think that whales evolved from a terrestrial animal (citing vestigial limbs). With all this evidence (DNA and fossil) for the common descent of whales, even some young earth creationists (yup, that's right!) have come to accept this as a clear example of evolution. Some wonder if walking whales were on the Ark, and think 4,000 years was enough time for them all to evolve. Says Dr. Kurt Wise,
"…some of the animals which are aquatic or marine today may not have been aquatic at the time of the Flood. The marine and sea otters, for example, are members of the mustelid (weasel) family and their aquatic character is likely to have been revealed after the Flood. The whales might turn out to be another example… Vestigial legs and hips in modern whales confirm legged ancestors of the whales existed only a short time ago. It is possible that the purely marine cetaceans of the present were derived from semi-aquatic or even terrestrial ancestors on the ark." https://thenaturalhistorian.com/2017/10/05/walking-whales-on-board-noahs-ark-the-inevitable-end-point-of-creationists-post-flood-hyper-speciation-belief/
We have to commend Dr. Wise for following the evidence here. However, it seems this process still needs a few million years to take place. but 4,000 years is not enough. Even AIG calles Pakicetus the "Whale-headed Rat-dog" https://arkencounter.com/blog/2015/08/12/nicknames-animals/, and includes it in the Ark Encounter.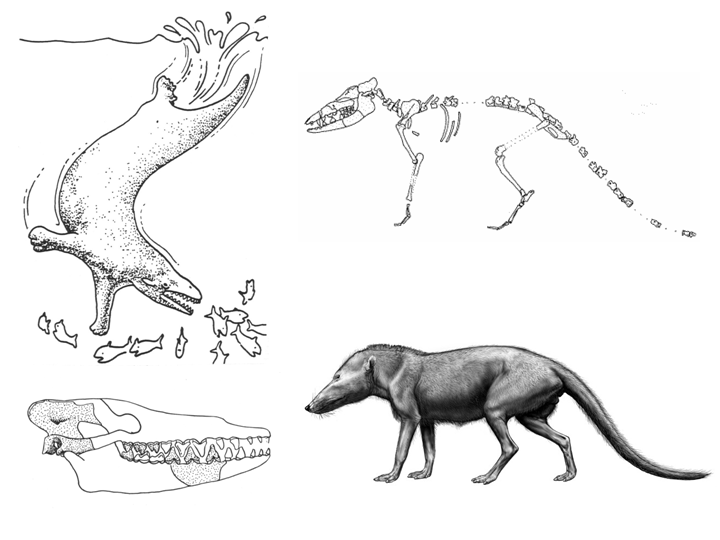 Though, not all YECs appear to agree with Dr. Wise on whale evolution: https://answersingenesis.org/charles-darwin/darwinism/was-darwin-right/
Honestly didn't plan on writing such a long post, but the science here is really amazing. And, if you haven't seen it yet, be sure to look at @Joel_Duff's work on hyper evolution in YEC origin models. A few million years looks like enough time, but 4,000 years is not enough.