Holy cow. That's almost scary. What's next a dust mite to fly up someone's nose? Weird.
Now I'm imaging that scene at the end of Planet of the Apes with the st are tue of liberty. Star gate returnees to earth sit in front of the fallen gat screaming and shaking fists.

It was a hoax that went around a decade or so ago. Don't stress out.

Ignore the clickbait headline, this story about one man's bus ride from London to Morcombe is such a wonderfully heartwarming story I couldn't help but share it. There are some pictures of some British bus stations and some camera phone images of the countryside. That's still creation, right?
Love the article. Hope to visit your fair country again someday, when the storm passes.
I enjoyed that very much. Have only been to England once but would love to go again. I might have to take the public transportation challenge after our harrowing encounter with the curb on a curve tightly hemmed in by tall shrubbery which we accepted over a head on encounter with a double decker. Had to replace the tire but at least we're still here to tell the tale. As a nature fan I think I'm in favor of all the hedges (can't think of the word you use), in spite of the danger to traffic.
Our only visit to England was limited mostly to London. Still, we enjoyed the tube system, buses, and trains available to easiy get around, which is alien to us in Texas. You either have a car, or you are stuck with the exception of a few bus lines in all but the most urban areas.
Enjoyed the views at Acadia last week. This is from the top of Cadillac Mountain, the first place the light of dawn hits the US each morning.

Saw some neat barnacles at a small beach, plus the biggest (living) crab I've ever seen in the wild…

Visited there and Deer Isle to the south one summer. So beautiful. I thought at the time it is the way Yosemite would look if it fronted the sea.
Went hiking among the sand dunes earlier this morning. Was tough. Even though the hike was just 6 miles there was probably around 80 dunes that were at least 20 feet tall that I walked up and walked back down from. It was also pretty hot. 101°f. Was so tiring the last 2 miles I walked past all kinds of things I thought was interesting. Averaged about 30 minted a mile and I only really slowed down to take pics in the first mile or two.
It looks like there's a tiny mushroom by it in the top pic.?
There is. There is a lot there that is hard to see. Several little species of plants growing out of the fronds, and so on.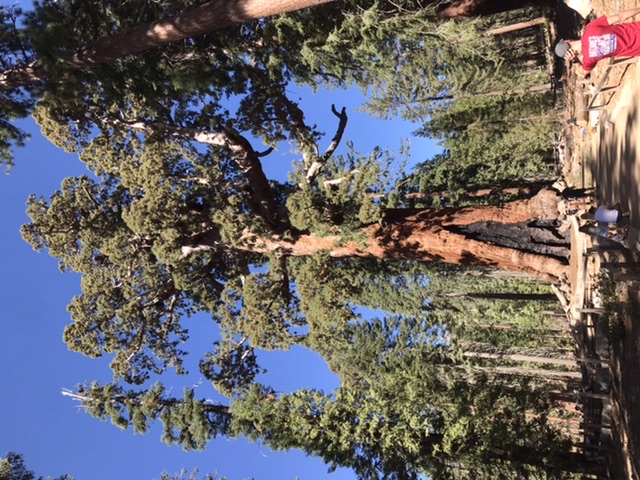 Is this cheating if I was following a well-trod path? Anyway, a couple of pictures from the Mariposa Grove I took last week at Yosemite. The first is Grizzly Giant, and the second is looking up from in the California Tunnel Tree.
Not pictured: my three-year old who had found a curved stick along the path and was running around pretending to shoot everything and anyone with a bow and arrow.
I've been there once–it was beautiful! These are great pictures. Thanks.
Wonderful. When we got married in 1983 we chose to do it in the little chapel in the center of the valley so that we could plan to return frequently to celebrate. Haven't been to that grove in a while though. Wonderful photos.
I hear the national parks are being overrun with visitors now, as one of the few places people feel safe to visit. I hope you haven't had that experience. Seems like parking in the valley was nearly impossible the last couple times we've been there. We've found the thing to do is get there early, grab a parking spot and then walk and take shuttles to get everywhere until you're ready to leave.
We were there Wednesday-Friday and it wasn't busy! When we entered the park, we only had to wait behind several cars. We hope to return in the spring to see the waterfalls and more color

Broad banded water snake. You can see where it bit me on my hand and the blurry pic is of when it was striking at my face. They can strike pretty fast. The bites are not too bad.

I can pick them up without being bitten. But I was holding my phone in one hand trying to film and pick it up with my other hand and it can hurt them grabbing them by neck and so I lost them by the body knowing I'll be bitten most likely.
Warning graphic images below. It's still being used as submitted evidence to the park ranger showing how this fluffy tailed tree rat robbed me in plain daylight beneath the old pine tree. Snatched my mushroom right out of my basket while I was just mere feet away and stared me down while he gobbled it up.