I was in a talk today and the claim was mentioned by Hugh Ross (similar to here):
Personally, I have observed the ancestral human population derived from genetics models decline over the past fifty years. Fifty years ago, geneticists were claiming an ancestral human population of about one million individuals. Thirty to forty years ago, that number declined to about one hundred thousand. Ten years ago, Biologos' Francis Collins wrote that it was about ten thousand individuals. When my colleague Fazale Rana debated the Biologos geneticist Dennis Venema, Venema said the number was 1,200 individuals. When i had a public dialogue with the president of Biologos, Deborah Haarsma, she said the Biologos biologists could go as low as 132 individuals. I suggested in that dialogue that we should plot a graph and that the graph would indicate that geneticists will be done to the biblical two in less than two decades.
I'm not sure about the particular exchanges he is referring to from @DennisVenema or from Deborah. I'm also not sure why or how he concludes that this is a trend in particular. From what I can see, population size calculations tend to look something like this: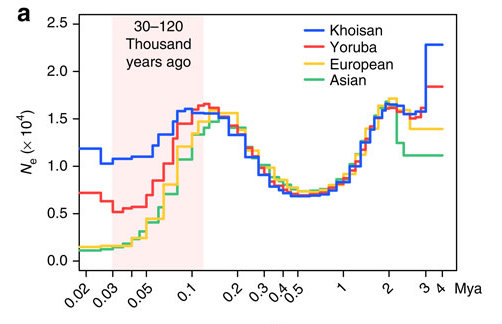 Even if there was a historical 'trend' downwards for several decades, I don't see this trend continuing with a growing consensus/evidence towards well over 10,000 around the time of Reason to Believe's Adam and Eve (~50 kya). Am I missing something here or where is the RTB argument coming from? @SWilling maybe you know more on this topic. And yes, the Mouflon Sheep were mentioned once again!