A close examination of the complexities displayed in Figure 15 shows that peat formation goes back more than 9000 years to 10,000 years ago (from the current surface elevation down to a little less than 50 meters). At this near 50m level, there isn't any peat formation until well into the glacial period, some 21,000 years ago. The gap between the black line at 100m down (at 15,000 years) and rapid curve up to 0m down (at 9000 years) shows that the flooding didn't start until 9000 years ago.
Anastasia G. , Ryan W., McManus J. , Dimitrov P. , Dimitrov D., Slavova K., Filipova-Marinova M. (2016-2017), Compilation of geophysical, geochronological, and geochemical evidence indicates a rapid Mediterranean-derived submergence of the Black Sea's shelf and subsequent substantial salinification in the early Holocene, Marine Geology. Vol. 383, 14-34.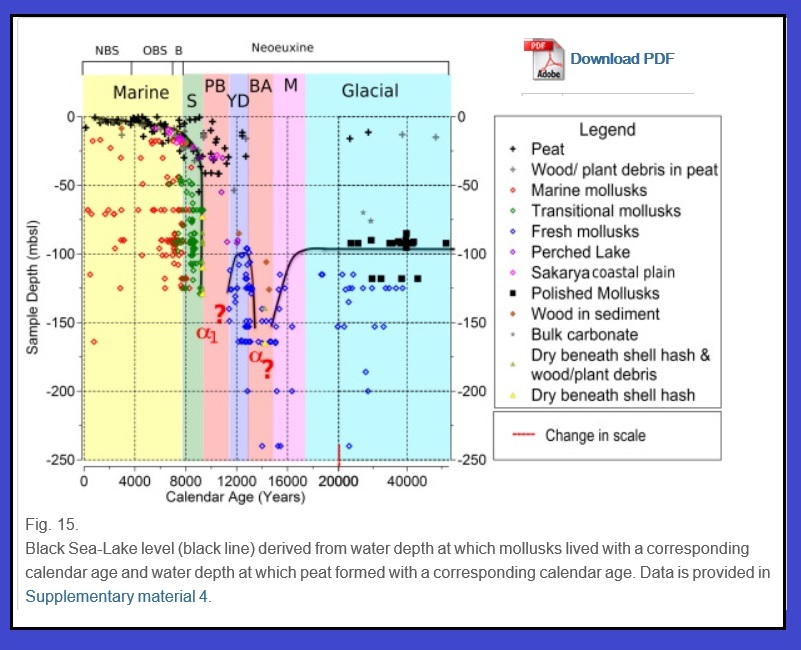 The reason people want to believe the Black Sea Deluge occurred as recently as 5600 BCE is so they can corroborate the Ark story - - which, in reality, is no more corroborated than the more ordinary massive flooding in Mesopotamia. Why do I say that?:
Whether it be a Mesop. Flood, or a Black Sea Flood, the following logic still applies:
a) It would not take a year to find dry land;
b) It would not take a year for birds to find dry land;
c) It would not be necessary to stockpile animals and get on a boat, because "Hey, look behind you, higher ground!"
d) Any animals on the boat would have been part of a cargo to be delivered, not in anticipation of intentionally moving into the flooding waters, to stave off months of hunger;
e) There would have been no intrinsic logic of preserving mankind, as Noah stepped off the boat to be greeted by bewildered villagers, living at higher levels, asking: "Noah, didn't you see us waving at you? We had barbecue and everything!"
The entire Flood story, from God's early warnings, to the ark's amazing dimensions, to its extended voyage, and the resulting survival of only one family, are all plot elements incompatible with any regional flood.
A massive flood story plotline can be inspired by a less massive flood. But none of the elements we actually find in the story of Noah is consistent with a "less massive flood". And this is true whether it is an ANE regional flood or a Black Sea regional flood.
The story only makes sense if it was intended to mean a global deluge.