It didn't upload today, though.
Thanks! Sorry. I think it is fixed now
Lovely! I guess we're not the only ones who just had another dose of winter. "Poor man's fertilizer," some call it.
Moving on from winter to spring, here's a picture of some blossom that I took today from my bedroom window. Sussex, England:
Hi Randy (& other Forum visitors)
I thought you might enjoy this photo my younger daughter sent me from their mini ranch on the banks of the Yakima river in Washington. Soon after they cleared the land of sagebrush, some 25 yrs ago, I paid yearly visits there, but since I've limited my traveling, we keep in touch via email.

I have these (+ 100s more going back prior to our courting days in 1945) on my Pikstar (sp.?) located beside the recliner chair that I use for a bed. So I can look at them as I start each day, recalling how blessed I am for the 94+ years of happy life the good Lord has granted me.
Stay well in these trying times.
Al Leo
Mid-April mid-Nebraska mid-afternoon raccoon:
And he/she wasn't starting to scratch – I took an iOS Live photo and looked at it frame by frame. It really lifted both fore- and hindfeet that high as it was walking. I had noticed long ago that their backs are really arched, artificially, it seems, like they are wearing jackets that are too tight, when they walk.

Maybe high-stepping helps explain it.
We had a run in with one of those masked bandits here last August. My younger dog who was taught young by my older female to submit in the face of force did his best to put a stop to their attack by squealing like a pup … with the predictable result. It was late at night and I had to run out there into a dark corner where all their screaming and his squealing was coming from in order to effect his rescue. This is his yellow badge of … 'courage'. The worst of it was on his butt where the deepest bites required a stint to be put in, the reason for his extra wide sombrero.
I gave that a very qualified "Like" because of your pet's injuries. Yeah, raccoons are not to be messed with.
Last week when I was taking down snow fence I saw what I at first thought from its tail was the carcass of an orange tabby. A closer look quickly told me that it was red fox rowed kill (as in row crop

). It hadn't occurred to me until you mentioned your pet's altercation that the fox may have mixed it up with a raccoon and lost, although I didn't examine it closely for wounds – there were no major ones that immediately caught my attention.
I didn't spend much time with it, though. A zoologist or someone else specializing in the critters might be able to suggest something about its age from its teeth: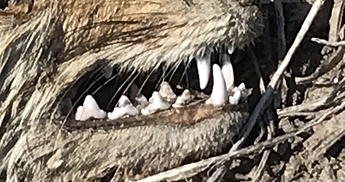 It's crazy to me it's still cold in some places. Here it was in the 80°f today and I went hiking early this morning before work. Found some cool insects.
Your caterpillar photos remind me of one common around here that my family calls "dill worms" because they are always on dill plants. Actually black swallowtail butterfly caterpillars, the defensive mechanism of hidden and then 'inflating antlers' is really remarkable (hence my remarking
), somewhat analogous to airbags, but fluid-filled. They of course deploy when picking them off your dill plants.
Not my photo:
The first caterpillar is in the tussock genus. I'm not really sure which one. But should be easy to find out. The second ones, the ones I think you're referring to, is a monarch caterpillar. A really tiny one at that. It will get 100 times that size lol.
The next is a walking stick. I think the northern walk stick but maybe a Carolina walking stick but I'm not sure really.
I've not identified the last moth yet but hopefully will soon.
Walking sticks are cool. That's a little one! We don't have them out here, but I've seen them on Lookout Mountain near Chattanooga.
I thought that was a walking stick in the next to the last photo. Around here they can get several inches long. I've only seen them in my garden a few times. Once I was rushing to clean the garden up for an event. As I rushing past a plant I snatched a bit of what looked like dead foliage form one plant at knee level and came away with only part of a walking stick. Going back I found the rest of it still clinging to the twig. So awful. Such a cool creature to see.
The vets were quite familiar with raccoon bites on dogs. They said they can do some damage. In most cases the dogs take on more than they can handle but my guy had to have been mugged as he has no prey drive at all that I've been able to detect. I've was sitting in the garden with him one time when a very sick, deranged squirrel walked by us not six feet away. He looked at it, looked at me and basically shined it on. My older dog would never let a chance like that slip by.
On my way to get the mail late, sunset over…
An old Nebraska pickup. You'll see a nice white flag that the tailgate is pointing to:
Flag lowered and furled (look closely for a pair of turkeys):
Nebraska sunset looking SSE on the way back (zoom in for sun on the sandhill cranes' wings, the relatively few cranes which have not moved on):

…compared to the myriads last week and before:
Thank you for those photos from your family. You are indeed blessed!